Built for Zero: How 9 Cities Ended Veteran Homelessness
Posted On April 17, 2019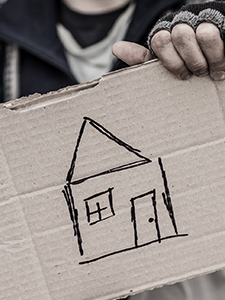 Earlier this year, the city of Abilene, Texas joined a growing number of communities to end Veteran homelessness. With the help of a national program called Built for Zero, Abilene city officials were able to leverage community data to track homeless Veterans on a case-by-case basis, identify the causation of their chronic homelessness, and allocate resources effectively.
Although Abilene's estimated population of 120,000 is far smaller than the population of larger metro areas like San Francisco, Seattle, and New York City, the data tracking model can be applied to larger populations. Each year, cities around the country submit data on their homeless population to the Department of Housing and Urban Development (HUD). HUD compiles the data, and then releases a lengthy report months later that is already out of date and unusable. Built to Zero uses a coordinated approach, aggregating data from multiple community organizations to determine why people are experiencing chronic homelessness and intervene at critical junctures.
Bergen County, New Jersey was the first community to end Veteran homelessness and then chronic homelessness in 2017. Through the data gathered, city officials were able to discover emerging trends, specifically an uptick in homelessness among young people and seniors. To address the issue, they added nursing staff to homeless shelters and allocated funding toward grants to support long-term eldercare. Julia Orlando, director of the Bergen County Housing, Health, and Human Service Center explained, "if you can start seeing trends before it's a really bad problem, you can start adjusting your policies or trying to get additional services in your facility to address that."
After its early success, more cities will have an opportunity to join the Built for Zero Program and receive training in October. Through the program, larger metros can better disburse resources toward needed programs. For example, New York City spends over $2 billion each year on homelessness programs and is still experiencing an increase in its homeless population. Using the Built to Zero data tracking platform, nine communities have ended Veteran homelessness and three more have reached a "functional zero" for chronic homelessness. An additional 39 communities have also made measurable progress. Because of this success, the Tableau Foundation is committing more than $1.3 million in software services to improve the platform and contribute to the cause.
Sources: Fast Company