Market Recap: Construction Spending Up, Mortgage Apps Surge, ADP Employment Adds Fewer Jobs
Posted On April 05, 2019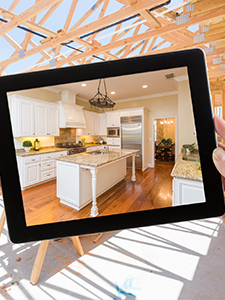 Mortgage rates trended downward again this week and will likely stay low throughout the Spring home buying and selling season. US construction spending picked up in February. Mortgage application submissions surged, driven by refinance activity. The ADP employment report added fewer jobs than expected.
US construction spending increased 1.0% month-over-month in February, the third consecutive month of gains. The 35-day partial government shutdown in December and January stalled some economic activity, and construction spending appears to be rebounding. Lower mortgage rates may continue to drive mortgage activity.
The Mortgage Bankers Association (MBA) weekly mortgage application survey was exceptionally strong for the week ending 3/29. New purchase applications increased 3.0% and refinance applications jumped 39% for a composite increase of 18.6%. The MBA's associate vice president of economic and industry forecasting, Joel Kan, commented, "There was a tremendous surge in overall applications activity, as mortgage rates fell for the fourth week in a row – with rates for some loan types reaching their lowest levels since January 2018."
The ADP employment report accelerated at an 18-month low in March, suggesting the rapid pace of hiring seen over the past few years may be slowing down. The ADP employment report added 129,000 private payrolls in March, far below expectations. Small businesses added 6,000 jobs, medium-sized companies added 63,000 jobs, and large firms added 60,000 jobs.
Lower mortgage rates will likely continue to drive home financing activity this year. Homeowners may benefit from a refinance to get a lower mortgage rate, remove mortgage insurance, or withdraw home equity. If you have any questions about refinancing while rates are still low, let me know.
Sources: CNBC, CNBC, MarketWatch, MarketWatch, MarketWatch, Mortgage News Daily